July 2019 - Laxmi Laghubitta Bittiya Sanstha Nepal selects Nelito Systems FinCraftTM Software Solutions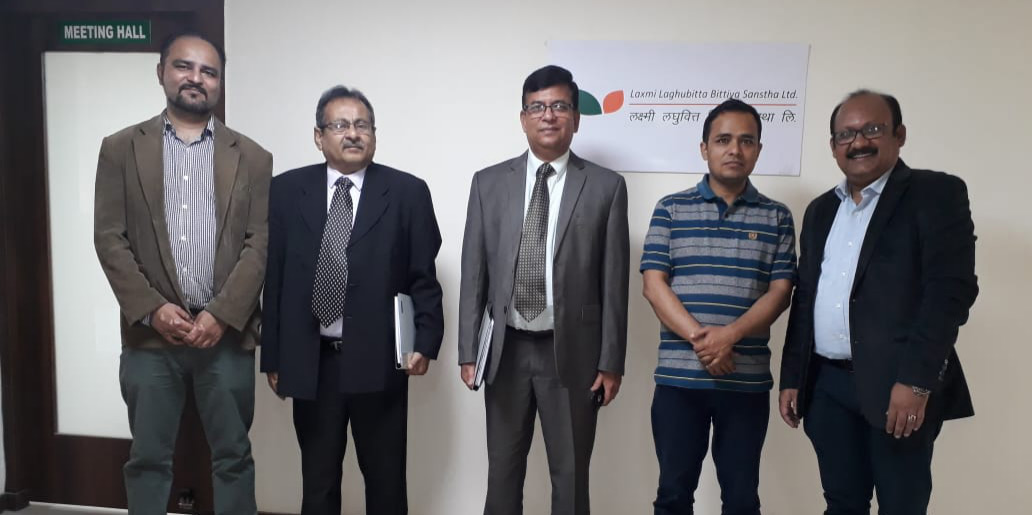 Nelito Systems Ltd. announced that it has signed an agreement with Laxmi Laghubitta Bittiya Sanstha (LxLB), a national level microfinance institution in Nepal for the following solutions
FinCraftTM Core Banking Solution (CBS)
FinCraftTM Integrated Lending Management Solution (Which also includes Loan Origination Solution)
FinCraftTM HO Module
LxLB's mission is to provide customer friendly financial products and services to the poor and disadvantaged community and promote economic activities in un-served and underserved areas of Nepal in a sustainable manner.
Prakash Raj Sharma, Chief Executive Officer, Laxmi Laghubutta Bittiya Sanstha Limited, Kathmandu, Nepal, said, "Laxmi Laghubitta has initiated digitization of its microfinance services. It has entered into agreement with Nelito India to install and implement FinCraftTM Solution and ILMS through which digitization will be done. I am excited to provide microfinance services to deprived people using new and advance technology…..the technology by which LxLB will move towards Paperless and Cashless transactions with improved efficiency and better internal control. I think it is time to take Microfinance movement of Nepal to next level and I am quite hopeful that the partnership with Nelito will lead us in that direction."
CEO, Nelito Systems said, "Nelito's Core Banking System and Integrated Lending Management System enables digital transformation of microfinance organisations, by improving their customer experience and making their operations agile. Nelito is privileged to collaborate with Laxmi Laghubitta, to take their operations to the next level of agility, and help them in reaching more customers and offering them better service."
About Laxmi Laghubitta Bittiya Sanstha Ltd
Laxmi Laghubitta Bittiya Sanstha Limited (LxLB), a microfinance subsidiary of Laxmi Bank Limited (a commercial bank of Nepal), is a national level microfinance institution licensed by Nepal Rastra Bank, the central bank of Nepal. It is the first microfinance institution to be registered as a subsidiary of a commercial bank in Nepal.
As a professional microfinance institution, LxLB has developed customer friendly financial products & services, and plans to reach large number of clients in un-served and underserved areas. It focuses on livelihood business, micro-enterprise, small, and medium scale enterprises with an aim to benefit and empower the low-income group of Nepal. LxLB has its Head Office in Kathmandu, Nepal and provides microfinance services to low income group through its branch offices located in different parts of the country.
About Nelito Systems Ltd.
Nelito Systems Ltd. provides software solutions and services for Banking, Financial Services and Government sectors, primarily in India and SAARC and ASEAN countries. Nelito offers FinCraftTM suite of solutions like Core Banking, Integrated Lending Management Solution, Enterprise Reporting, Data Warehousing and Mobility Solutions. Formed in 1995, Nelito has served more than 400 Banks and Financial Services organisations across 20 countries. Nelito is a wholly owned subsidiary of DTS Corporation Japan.